Prices and information 2023
Double room A
(approx. 20 m²) 2 people


Double bed, balcony, bathroom with shower, toilet and hairdryer, Wi-Fi, telephone, safe and satellite TV.
The prices stated are per person per day with breakfast buffet.
up to 3 days
up to 4 days
up to 8 days
01.04. - 17.05.2023

75,00 €
72,00 €
70,00 €
18.05. - 08.07.2023
80,00 €
77,00 €
75,00 €
09.07. - 14.10.2023
85,00 €
82,00 €
80,00 €
15.10. - 06.11.2023
80,00 €
77,00 €
75,00 €
Request a room
Room details
Double room B
(approx. 24 m²) 2 - 3 people



Double bed, balcony, seating area, sofa bed, bathroom with shower, toilet and hairdryer, free Wi-Fi, telephone, safe and satellite TV.
An extra bed can also be added to the type "B" double room.
The prices stated are per person per day with breakfast buffet.

up to 3 days
up to 4 days
up to 8 days
01.04. - 17.05.2023

78,00 €
75,00 €
73,00 €
18.05. - 08.07.2023
83,00 €
80,00 €
78,00 €
09.07. - 14.10.2023
88,00 €
85,00 €
83,00 €
15.10. - 06.11.2023
83,00 €
80,00 €
78,00 €
Request a room
Room details
Single room
(approx. 15 m²) 1 Person


Single or French bed, balcony, shower, toilet and hairdryer, Wi-Fi, telephone, safe and satellite TV.
The prices stated are per person per day with breakfast buffet.
up to 3 days
up to 4 days
up to 8 days
01.04. - 17.05.2023

80,00 €
77,00 €
75,00 €
18.05. - 08.07.2023
85,00 €
82,00 €
80,00 €
09.07. - 14.10.2023
90,00 €
87,00 €
85,00 €
15.10. - 06.11.2023
85,00 €
82,00 €
80,00 €
Request a room
Room details
Family room
(approx. 34 m²) 2 - 4 people


Double bed, convertible sofa bed for two more people, balcony, shower, toilet and hairdryer, Wi-Fi, telephone, safe and satellite TV. Our spacious family rooms are large enough for the whole family.
The prices stated are per person per day with breakfast buffet.
up to 3 days
up to 4 days
up to 8 days
01.04. - 17.05.2023

81,00 €
78,00 €
76,00 €
18.05. - 08.07.2023
85,00 €
83,00 €
81,00 €
09.07. - 14.10.2023
91,00 €
88,00 €
86,00 €
15.10. - 06.11.2023
86,00 €
83,00 €
81,00 €
Request a room
Room details
Sun suite
(approx. 45 m²) 2 - 5 people



Separate living room and bedroom with a connecting door, double bed, convertible sofa bed and comfy seating area, fridge, shower, toilet and hairdryer, Wi-Fi, telephone, satellite TV and safe. Two suites also feature a kitchen unit.
The prices stated are per person per day with breakfast buffet.

up to 3 days
up to 4 days
up to 8 days
01.04. - 17.05.2023

86,00 €
83,00 €
81,00 €
18.05. - 08.07.2023
91,00 €
88,00 €
86,00 €
09.07. - 14.10.2023
96,00 €
93,00 €
91,00 €
15.10. - 06.11.2023
91,00 €
88,00 €
86,00 €
Request a room
Room details
Panorama Garden suite
(approx. 60 m²) 2 - 5 people


The new panorama garden suite on the parterre has two separate bedrooms, one with a double bed and one with two single beds; two bathrooms, one with a shower and toilet and the other with a shower and bath and a separate toilet with a bidet; a hairdryer; an entrance area with a kitchen unit; a private garden terrace with sun loungers, a seating area and sunshades; Wi-Fi; a telephone; a safe and satellite TV.
The prices stated are per person per day with breakfast buffet.
up to 3 days
up to 4 days
up to 8 days
01.04. - 17.05.2023

96,00 €
93,00 €
91,00 €
18.05. - 08.07.2023
101,00 €
98,00 €
96,00 €
09.07. - 14.10.2023
108,00 €
106,00 €
104,00 €
15.10. - 06.11.2023
101,00 €
98,00 €
96,00 €
Children's rates

There is plenty of space for the whole family in our lavish family rooms and suites.

Facilities for children:
a playground with a slide, a rocking horse, swings, a sandbox, a trampoline, table tennis and table football.
Age

discount
0 - 2,99 years

-80%
3 - 5,99 years

-60%
6 - 13,99 years

-40%
14 - 17,99 years

-30%
Request a room
Room details
General Information
The prices stated are per person and day incl. breakfast buffet plus 2,10 € local tax per person from 14 years.
A third adult person in an extra bed receives a 10% discount.
For single occupancy of a double room we charge a surcharge of 35%.
For dogs we charge 12,00 € per day (without food). Your dog may also accompany you to breakfast and dinner. We have a separate area in the dining room.

Your vacation home is at your disposal from 14.00 on the day of arrival; should you arrive earlier or only after 19.00, we kindly ask you to inform us by telephone.
Room release until 10.00 o'clock.

Meran Card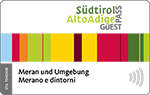 Every guest receives the Meran Card. The Card is issued by us from your first overnight stay and includes a variety of services. The card is valid for the entire stay.
What is the MeranCard?
The MeranCard includes a number of services:
- Use of all public transportation throughout South Tyrol
- Rides on public cable cars in South Tyrol, which include the cable cars to Renon/Ritten, San Genesio/Jenesien, Maranza/Meransen, Meltina/Mölten, Colle/Kohlern and Verano/Vöran as well as the the narrow-gauge railway on the Ritten Mountain and the cable railway up to the Mendel Mountain. Private cable cars are not included.
- One-time entrance to more than 80 museums in South Tyrol

Service and facilities
Hiking poles rental
Free bike rental
Covered parking lot
Free underground parking with 24 parking spaces, with fixed space reservation 5,00 €/day.
High Speed WLAN almost in the whole hotel area

Cuisine
Rich breakfast buffet
Small dishes a la carte at noon from 12:00 to 13:30 and in the evening from 18:30 - 20:00.
Table reservation for evenings desired.
On Tuesdasys the restaurant is closed.

1 x a week barbecue (in the summer months).

New from 2022: Pizza from the stone oven.
Wellness
A lush lawn with deck chairs and sunshades
A solar-heated outdoor pool (12 m x 4.5 m)
An indoor pool (29°C) featuring a counter-current system and whirlpool
Finnish sauna, Turkish steam bath, Physiotherm infrared cabin, experience shower, two quiet rooms
A bathrobe is available for a rental fee of € 6.00 and a bath towel for € 3.00
Sauna towels are free
The panorama gym with the latest equipment (2x Ergo exercise bikes, treadmills, cross trainers, multi-functional trainers, benches, gymnastics balls and mats, wall bars)
room facilities
ROOM FACILITIES: All rooms have a shower and toilet (some also feature a bidet), balcony, safe, hairdryer, new LED-TV (32") and Wi-Fi (fridge only available in suites).

An extra bed can also be added to the type "B" double room.
Our sun suites have a separate living room and bedroom with a connecting door, double bed, convertible sofa bed and comfy seating area. One of them also features a kitchen unit.
The new panorama garden suite in the dependance has two separate bedrooms, two bathrooms and an entrance area with a kitchen unit.
Payment conditions
You can pay your hotel bill in cash (limit: 4.999,99 euros), with a debit card or most credit cards.
We are also happy for you to pay a deposit on your booked holiday, you can do this
online by hobex secure payment system
or, if you prefer, by bank transfer.
The bank details are as follows:
Raiffeisenkasse Tirol
Hauptstraße 31
39019 Dorf Tirol/Tirolo – Italy
Account holder: Hotel Eichenhof KG des Götsch Andreas
IBAN: IT 97 K 08278 59000 000300214566
SWIFT-BIC: RZSBIT21044
General cancellation terms
Please note:
Your booking is binding as soon as you have made a written reservation with us.
There is no right of withdrawal in the sense of the consumer protection code, nevertheless we grant you the following cancellation conditions: 
Cancellation up to 14 days before arrival:
Free. The deposit paid will be returned or charged for a further stay.
Cancellation from 13 to 7 days before arrival:
50% of the agreed total amount.
Cancellation from 6 days before arrival or in case of no-show:
70% of the agreed total amount.
In case of early departure or late arrival we charge 70% of the agreed daily rate per unused day.

Notice pursuant to Part III, Title II, Section I, of the Consumer Protection Code (GvD 206/2005):
In order to avoid inconveniences, it is recommended in any case to take out a travel cancellation insurance. You can book your travel insurance online here: trip cancellation insurance Hotel Cancellation Plus.